U-Vin You are the Vintner
Anyone can be a winemaker at Vines to Cellar, with a little help from our staff at the winery. We call it U-VIN, where you become the Vintner.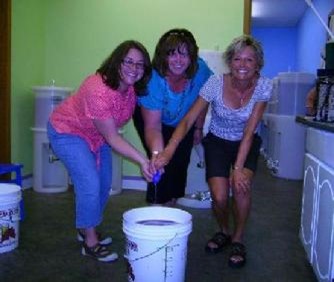 Why not come in and get the full wine experience with us.  
Prices range from $300.00 to $430.00 (bottles, corks and labels included) for 29-30 bottles of wine with custom-made labels.  (Price varies by varietal)
Call or click to reserve your wine-making date with us.  
You can come in by yourself or schedule a wine-making party with your friends.
 
Come into Vines to Cellar and pick out your favorite wine from our selection of over 50 varieties.  We will help you start your 6-gallon batch of wine.  
If you'd like, you can come back during the next 4-8 weeks and help with each step as your grape juice is fermented into wine. After the wine is completed and aged in our small customer fermenters, we filter each batch and have it ready for the vintner when they return to bottle, cork, seal and custom label their batch wine.
UVins are a great gift for those special occasions.  
Bridal Showers
Bachelorette Parties
Networking Groups
Family Parties
Anniversaries or 
Just because you love Wine Parties
 We can help you customize your UVin event to fit the occasion.